Geographical Indication SCOTCH WHISKY has been registered in Belarus
On 18 April 2022, the first geographical indication SCOTCH WHISKY was registered in Belarus after the new version of the Law on Geographical Indications (hereinafter – the Law) came into force. The holder of the geographical indication (hereinafter – the GI holder) is the Scotch Whisky Association (UK). More detailed information on the geographical indication SCOTCH WHISKY posted on the web site of the Belarusian Patent Office can be found at https://ncip.by/upload/doc/Naim_mest_prois/Scotch_whisky.pdf.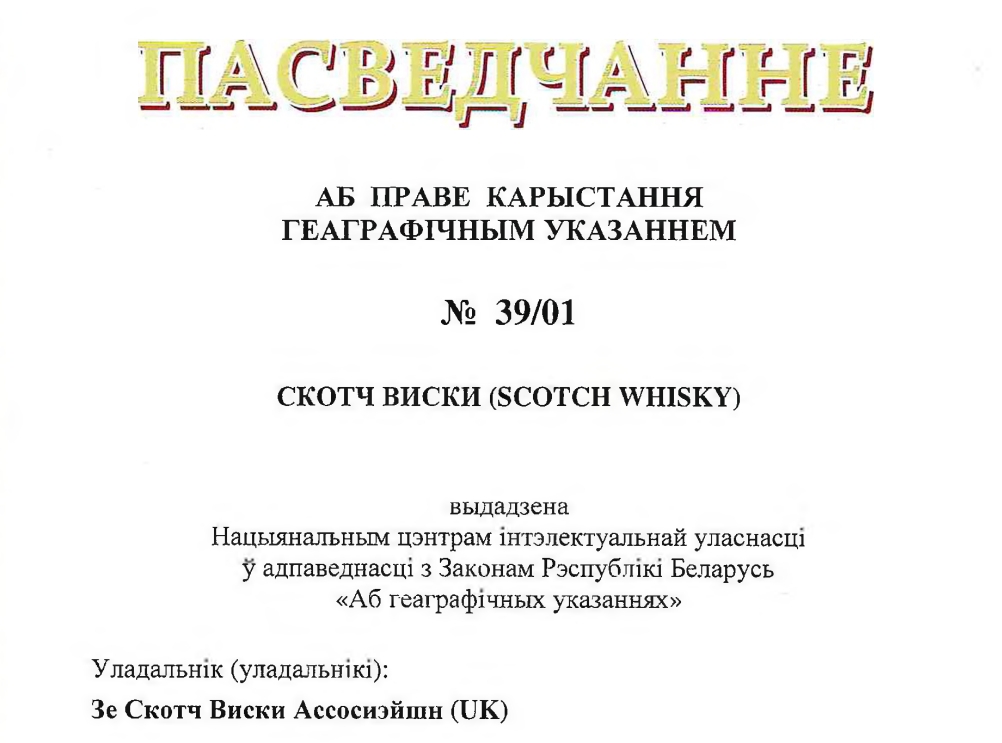 Scotch Whisky is whisky exclusively distilled and matured in Scotland. It cannot be legally produced outside of Scotland. Use of the designation SCOTCH WHISKY or a designation confusingly similar to it in relation to whisky or other similar goods by others who are not entitled to use the designation would infringe the rights of the GI holder. It would also be an infringement of such use for the individualisation of dissimilar goods if it is likely to mislead the consumer as to the place of production (origin), particular properties, quality, reputation or other characteristics of goods. An infringement will also occur if the designation SCOTCH WHISKY is used in combination with the words 'kind', 'sort', 'type', 'style', 'mark', 'imitation', 'method', 'as produced in', 'similar to', 'comparable to' and the like. 
Liability for infringement:
Please note that according to the new version of the Law, goods, labels, packaging of goods on which the designation is applied in violation of the exclusive right to a registered geographical indication, are deemed counterfeit. This also gives the holder the right to demand that the unlawfully used designation be removed from counterfeit goods, labels and packaging of goods and should it be impossible to do so, withdrawn from civil circulation and destroyed. Such indication or designation must also be removed from goods and materials accompanying the introduction of these goods into civil circulation, performance of works and (or) provision of services (documentation, advertising, printed materials, signboards, global computer network Internet). The measures listed above are taken at the expense of the infringing party. In addition to the above measures, the GI holder has the right to claim damages or compensation from the party infringing their exclusive right to the geographical indication, ranging from one to fifty thousand basic units, given the nature of the infringement, as determined by the Supreme Court of the Republic of Belarus. Where the use of a designation which is identical or confusingly similar to a geographical indication in respect of any goods is likely to cause harm to the business reputation of the right holder, the latter is entitled to apply the means of protection provided by law. 
For reference:
The new version of the Law of the Republic of Belarus 'On Geographical Indications' entered into force on 29 August 2020. For the first time in a long time, significant amendments have been made to the said law, including in terms of clarifying the scope of geographical indication to which legal protection is granted in the Republic of Belarus, as well as regulating the procedure for considering applications for the right to use a geographical indication and liability for violating the exclusive right to a geographical indication. The working group in charge of drafting amendments to the Law included, among others, Svetlana Koroliova, a patent attorney and director of LEXPATENT LLC